Who's the lucky girl that got picked to join in on Top Stitchers this season?
This girl!
There are a few changes that were made to this season from last year. One of those changes are that the competitors get to interview their challenger.
So today, I want to introduce you to my new friend Janette from Merri Poppins.
It only took us 2 weeks of trying to get together to finally "meet" through video chat. I messaged Janette Monday afternoon and told her that I had a second to get together if it would work for her. She jumped in her car and we got on our way. It was her first time video chatting through facebook and only my second time. A bunch of newbies at technology we are!
I love that Janette jumped in her car to do the interview and that she was ok with me looking like a mungy pup found off the street ;)! It made me feel a wee bit normal with the crazy things a working mom does. I felt bad as we were doing the interview. I am sure she felt like I had terrets, while multi tasking feeding my baby, consoling my 3 year old, and greeting my older girls when they got off the bus, but she seemed to take it all in stride!
A couple things before I get to the questions that I asked her that I love about her already....She is a mom to 4 kiddos, just like me. It doesn't seem like there are a lot us today that have "lots" of kids (in reality 4 kids to me is a small family after growing up with 7 brothers and sisters :)
She is just as nervous as I am to compete in Top Stitchers this season. It is her first time doing it. I was able to participate last season, but still feel like a fish out of water!
Janette is a work at home mom with her own sewing business. I've found in the world of craft and sewing bloggers, that isn't the normal thing. I felt an immediate connection with her on that one. Working from home, as a mom, on a creative business is definitely a bit different than sewing for fun or blogging as your main business.
During our interview I asked Janette a couple of questions:
1. If you could spend 1 hour of uninterrupted time to be able to sew anything, what would it be?
"A Harry Potter Quilt". She has been working on this quilt for awhile, but she hasn't had much time to be able to sew it, so she would spend her time making that.
You wouldn't believe it, but my heart skipped a beat when she said that. Another quilter in this world of clothing seamstresses. It was meant to be!
2. Why did you join Top Stitchers and how many seasons have your participated in?
This is my first season to participate. I saw Becca ask in a facebook group if anyone would like to join and I was excited to be able to join. I love that this competition is themed as that is right up my alley. I love to sew Disney inspired clothing and costumes.
3. What is your favorite thing you've ever sewn?
Anything that I've sewn that is costumey especially the Disney inspired outfits. Especially this Tangled inspired dress for my daughter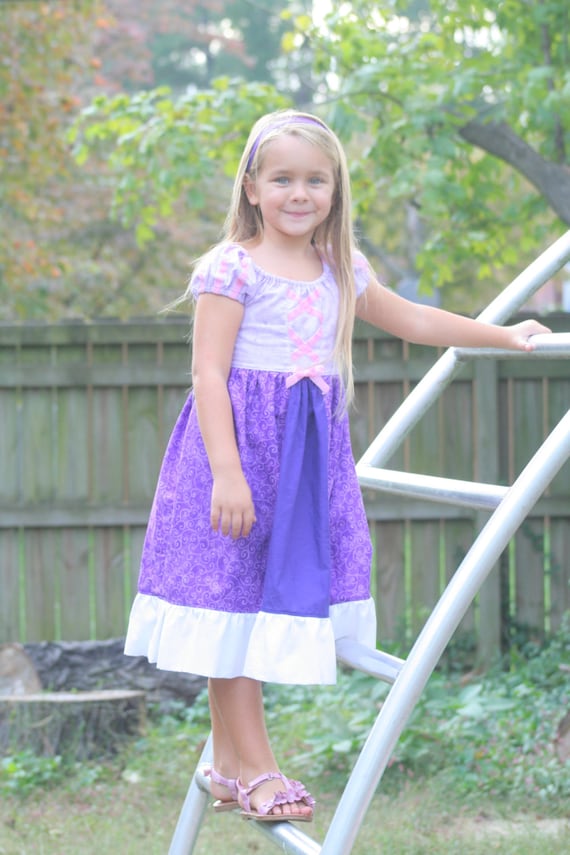 4. Why do you sew?
I sew because its a great creative outlet. I like to be creative and do other types of crafts and not just sewing. Being able to make something for someone else, and then to see the excitement from those little girls. I love that I am able to make their day, or even make their year. Moms lives aren't glamorous, but to be able to make their day special, that is why I do what I do.
5. Do you sew for fun and/or business
I started out sewing for fun. I couldn't afford to buy some of the amazing dresses that I would see, so I asked my mom to teach me while my oldest daughter was young. It wasn't until a few years later, when my youngest daughter was 2, that I really started to learn how to sew. Now I am able to sew as a business as well as be able to sew for fun too.
Having kids has forced me to learn a few domestic skills, that I never thought I would need when I was just out of high school. I was never good at math, but I have definitely learned how to do fractions as an adult.
You can find Janette on
Facebook
,
Etsy,
and
The Merri Poppins Blog
I can't wait to see what Janette comes up with from our
Sewing Stadium Top Stitchers prompt
that was assigned for our week. If you want to be able to sew along, the list of prompts are on the website.
The new season of
Top Stitchers starts Oct 27
. Its going to be soooo exciting so make sure to check out the website and follow along! You won't be disappointed!