One of my favorite things to make for my customers right now are these really cute Ruffle Crib Skirts using Ruffle Fabric. They are an easy way to make a ruffle crib skirt without a ton of time ruffling fabric. Here is a quick and simple way to make the crib skirt (can also be used for any size of bed)
First off here are the measurements and how many panels you will need in total for each size of skirt:
Crib-27"x52" (3 panels)
Twin-37"x80" (3 panels)
Full/Double -60"x80" (4 panels)
Queen -72"x80" (4 panels)
King -76"x80" (4 panels)
You will need to cut whatever the length of drop you would like from the bottom of the mattress to the floor (or wherever you want it to hang). A normal skirt is a 16 inch drop.
Next you will need to cut your velcro that you will sew your ruffles to. I use the softer side of the velcro for this. I also use Sew on for this side. You will need to cut 3 pieces. 2 for the sides of the bed and 1 for the end of the bed. For the bed sizes the side of the bed measurement is 80".
Now take your pieces that will need to be sewn together (For example the crib skirt will need 2 panels sewn together for the front of it)
Now take 1 of your pieces. Fold it in half, 3 times (or 2 times for the short pieces). That will divide the panel into 4 pieces or 8 pieces evenly. Put a pin at each of the corners ( you will have a total of 9 pins on a longer panel if you put on in at the ends)
Next, take your velcro and do the same thing with it. I normally just use a marker and mark the divided pieces.
As you are sewing, you will be making sure that each of the evenly spaced spots on the velcro and on the ruffle fabric fit in the same spaces. The ruffle fabric will need to be gathered so that it fits in between your markings. I normally just kinda stuff the fabric under my presser foot as I sew and try to keep it even as I go.
Repeat with your remaining sides.
To attach the skirt to your bed or crib take sticky velcro, I use the rough side or the hook side. I stick the velcro all the way around the edge of the crib or the bed. Then just take your skirt and stick the velcro pieces together.
Also, make sure to NOT let the hook side of the velcro to touch your ruffle fabric. It will ruin it. It grabs it and pulls little strings and makes runs, much like in nylons. Just a heads up.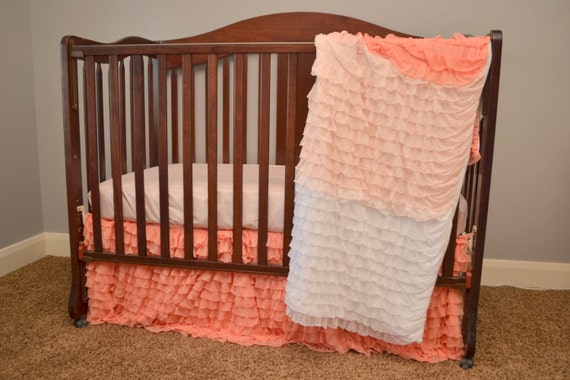 If you don't want to make your own skirt but would rather buy one, I have a ton of different colors available in my
Etsy Shop (A Vision to Remember)
If you enjoyed this tutorial make sure to check out:
How to sew Ruffle Curtains
How to Add Minky to a Quilt:
Follow A Vision to Remember: