Finally got the
Triangle Dash Rag Quilt pattern listed in the good ol Etsy shop.
Its a fun and easy quilt to sew up.
Or if you don't want to sew your own head on over and purchase the
triangle quilt in orange, gray, lime green, and navy blue with chevron, polka dot, and solid prints
(also available as a
car seat tent)
Finally got the #babyboy #quilt photographed. Love this quilt! #ragquilt via Instagram http://ift.tt/1sTcCIQ
Or for the girly version in
Hot Pink, Orange, Gray with beautiful flower prints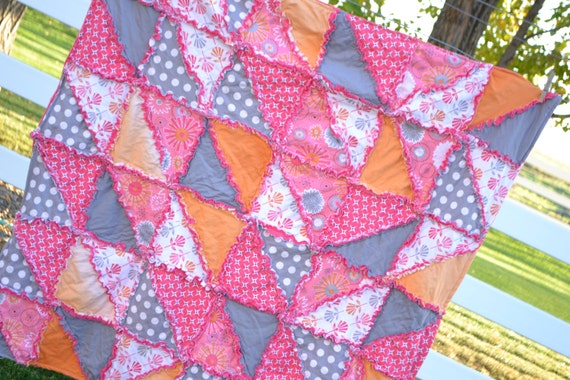 A little note about the pattern.
As a bonus I have included how to make a matching car seat tent if you are interested. It really is a fun and quick sew. The pink version was my 2nd one that I made. I needed something quick to give a really good friend of mine. From start to finish (and that included adding a minky back onto it from this tutorial) I was done in 3 hours. Not too shabby, especially for only making this quilt 2 times before this (once for a quilt, and once for a car seat tent)
If you would prefer to purchase the pattern from Craftsy I also have it available there